We had the pleasure of being part of a wonderful team to create a fairytale love story in Amsterdam recently.
The stage was set at the chic and modern location Droog Amsterdam. Springtime was in it's full glory with elm tree seeds (iep seeds in Dutch), setting the scene for a dream-filled wedding scene. Elm trees grow along the famous canals of Amsterdam, and nowhere in the world can they been seen in such high numbers. Their seeds during spring play an important somewhat magical role to us here. There are even a guided walk called 'The Elm Route' that is dedicated to this 'spring snow' throughout the streets and canals of our fair city. There is even a perfume inspired by the Elms aptly named Eau d'Amsterdam.
The talented Vivian at Hoi Ling Wong directed and photographed the day together along with a magical cast including a film by Anna Nasnimala. Makeup and hair was beautifully done for model Iris Maas, by the vegan MUAH artist Juliette Buisman. Iris wore beautiful pieces from Cologne based bridal designer Annika Maria, and we truly adored the fluidity of all the attire, from ultra modern and chic pant suits through to fairytale organza and silk ruffled sleeves and skirts, with details from  I Do I Do,  Annika Maria and Modern Romance Bridal.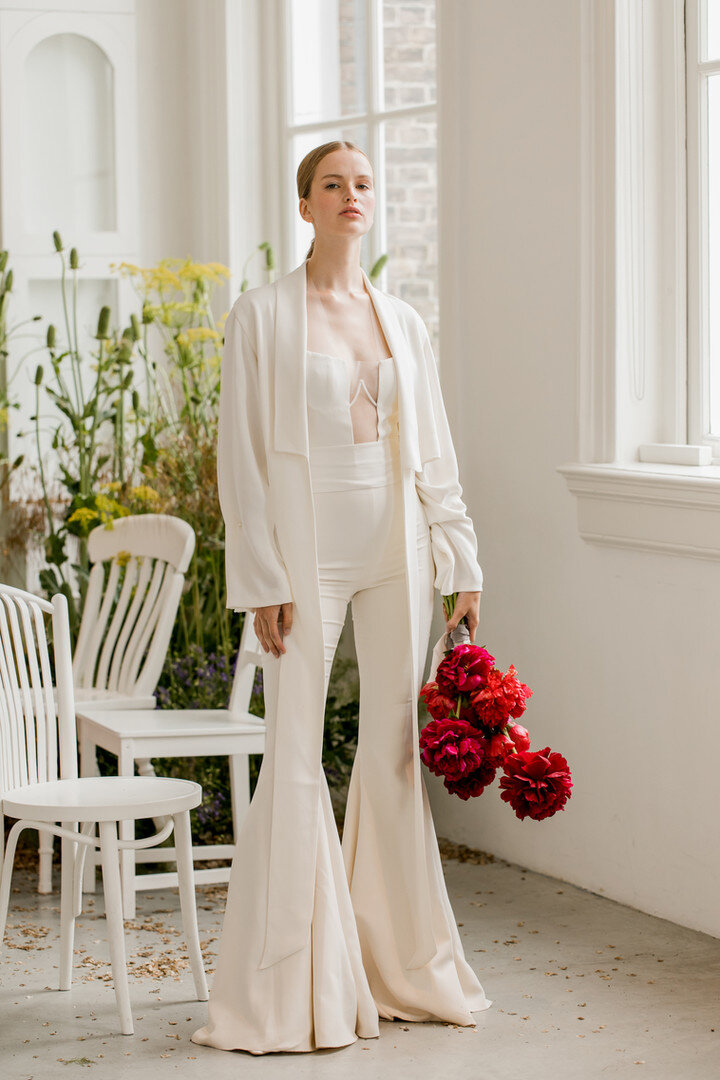 Peony season is one of our favourite times of the year, and this year the unusual weather provided the conditions to have these voluminous blooms available between late April until as late as the end of July. Coral sunset and command performance peonies lead the eye toward the colourful palette of dark reds and pinks, while the wild natural coloured backdrop contained dipsacus, the flower of the pastinak and billowy cotinus, along with wild grasses and a slight hint of purple delphiniums.
The table pieces featured grasses, and home grown roses, as well as secret garden roses, white peonies, scabiosa seed pods, digitalis and also cotinus.
We couldn't be happier with how everything turned out, so thanks to Sante Weddings for organising the important details from the strokes of calligrapher and engraver Sylvia at De Schoonschrijfster to the sweet cake from De Zoete Suikertoef.
We are squealing with delight that this shoot was also just published in The Anti Bride - you can read their story post is featured here.
A special thanks to our dream team
Location | Droog Amsterdam
Photography & Creative Direction | Hoi Ling Wong
Model | Iris Maas Agency | Matt Faces
Wedding Planner | Sante Weddings 
MUAH | Juliette Buisman 
Videography | Anna Nasnimala 
Videography assistant | Alina Velichko 
Cake De Zoete Suikertoef
Stationary & Calligraphy | De Schoonschrijfster 
Wardrobe | I Do I Do | Annika Maria | Modern Romance Bridal 
Jewellery | Studio Patina
Bouquet Ribbon | Atelier Von